Tuesday, August 23rd, 2016
Mulch, thanks to its many benefits for your soil and plants, can be a gardener's best friend.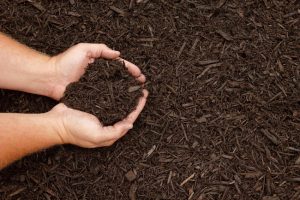 Generally speaking, mulch is spread or laid on the surface of the soil as a type of covering. Its benefits are many, from retaining moisture in the soil to suppressing weeds to keeping the soil cool and improving the aesthetics of your flowers beds. If you use organic mulch, you also have the added benefit of improving the soil's fertility as the mulch decomposes.
There are many different kinds of mulch — bark, wood chips, sawdust, hulls of cocoa, straw, pine needles, shredded leaves, crushed stone, gravel or volcanic rock, black plastic and landscape fabric all qualify as effective mulches for your garden.
Characteristics of good mulch are mulches that are economical, readily available, easy to apply and remove, one that stays in place, mulch that provides your soil with organic matter and one that is free of weeds, insects and diseases.
Summer or growing mulches are normally applied after the soil begins to warm in the spring. The primary roles of summer mulches are to warm the soil, reduce weed growth, and retain soil moisture.
Other considerations for selecting the right mulch include the type of location you are covering. Vegetable gardens or small fruit plantings suit black plastic and straw. The area around shrub beds and trees is well suited to mulch made from wood chips, bark and pine needles. Flower beds of annuals and perennials are best covered in finer mulches such as bark granules, wood shavings, cocoa shells and buckwheat hulls. In rock gardens, fine gravel or crushed stone look best and most natural.
As for what quantity to apply, it depends largely on your soil, how much rainfall you get, the type of mulch and the quantity of weeds your garden produces. Generally speaking, you're safe to go with a three- to -four inch depth of mulch. If you have dry soil, be sure to water it before applying the mulch so those weeds pull out easier.
As for timing, you can lay mulch just about any time. Just be mindful that if you apply it in early spring the earth might be slower to warm up.
If you use mulch in winter, wait until the ground is frozen. Mulch could delay this process and cause roots to go dormant later than normal and possibly damage them. Winter mulch is great for weed control and reducing the ravages of cold weather on your garden beds.
Sources: www.gardening.about.com, www.bhg.com, www.gardening.cornell.edu