Wednesday, April 16th, 2014
To say real estate is in Kate Hobson's DNA might be overstating it a bit.
But just a wee bit.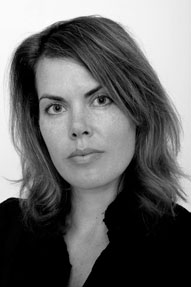 The Toronto native grew up surrounded by stories of land development and real estate thanks to her father, a successful land speculator. Her older brother is an architect and her younger brother is a successful realtor in the city.
Given that lineage it's no surprise that the 39-year-old chose to land on Real Estate Avenue two years ago after stints in advertising, home and office renovations, and her most challenging assignment of all, motherhood.
"I'm just coming out of the woods," jokes Kate when speaking of her five-year-old son and six-year-old daughter. "But really, I'd been thinking about going into real estate for years."
In her early career, Kate worked in advertising for a few Toronto agencies in production  and client services. She loved the fast-paced, cutting edge atmosphere of the ad biz but left it behind in favour of an opportunity to work on a land speculation project with her father. The work would lead to other project management opportunities such as overseeing residential and commercial renovation projects.
Project management allowed Kate to work from home, which was ideal when her children were very young. But real estate beckoned.
Kate had heard about Freeman Real Estate thanks to her father, who years ago had dealt with the firm's founder Barry Freeman. She interviewed with five or six brokerages because she was determined to find that right fit. Confident that career success would come quickly, Kate wanted to ensure that she signed on with a brokerage that was willing to offer a fair bit of support. At Freeman, she found what she was looking for.
"Not to sound corny, but the office environment here was unexpected and  it's pretty amazing" she says. "People are willing to offer advice and help each other out. At other offices they're  both physically and culturally more closed and everyone has their little pod.  Here, people don't necessarily have to come in to the office, but they do for the camaraderie."
Besides many of the pluses of working for a small, family-owned boutique realtor, Kate also enjoys the office's dog-friendly policy. Her new pup, a Welsh spaniel named Birdie accompanies her into the office and rather enjoys the interaction with other Freeman dogs.
Kate was awarded two prestigious Freeman awards last year, the President's Club Award in recognition of sales achievement and the Dare to Soar Award for record-breaking achievement for a new salesperson.  This year she was awarded the Freeman Real Estate Ltd. Award of Excellence – Platinum Level 2013,  for grossing +$10 Million in Sales over the last 3 years.  Not bad, considering 2013 was only her second year in the business.