Wednesday, March 12th, 2014
As the days grow longer and the sun warms our spirits, we cross the threshold into that season when Mother Nature begins to show off her bounty in full glory.
As Canadians who have endured a wickedly cold winter, we need to honour that bounty and one sure-fire way to do so is to minimize the amount of food waste we generate.
We might be inclined to point fingers at food manufacturers or restaurants or grocery stores, those big food consumers, but the truth is that 51 per cent of the estimated $27-billion of wasted food in Canada comes from the leftovers we toss in the trash at home.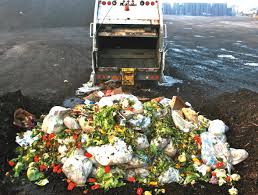 Each Canadian family throws out more than $1,000 per year in kitchen waste. To go one further, once the scraps hit the landfill site they become a major contributor to the production of greenhouse gases such as carbon dioxide and methane.
A sad yet alarming fact according to the Food and Agriculture Organization of the United Nations is that one-third of food produced to feed people is lost as it moves from field to plate. According to the World Bank, the value of the food waste in Canada is greater than the combined Gross Domestic Product of the 32 poorest countries in the world.
When we discard food we are wasting more than just food. Think about all the resources that go into growing, shipping and producing. Think about all the water that is wasted in the process – that's all down the drain, too.
But there are things you can do to lessen your food loss and help the environment. Start by taking the produce you buy out of its plastic bag. Might sounds counter-intuitive but airtight wrapping only suffocates your fruits and veggies and speeds up spoilage.
Wait before washing your produce. Moisture promotes the growth of mould and decay so wash just before you plan to eat it.
Don't hull strawberries or discard fruit stems. This will keep the produce whole as long as possible. Once living cells are broken bacteria starts growing and that's something you want to avoid.
Plan out your shopping, menus and meals. A lot of times we buy on impulse or out of habit and that doesn't always serve us well. Will you use up two heads of cauliflower before they start turning black? When you do buy make a point of eating the most perishable items first.
Don't get roped in to buying a flat of blueberries or two litres of yogurt because the price is right. Unless you've got specific plans for those items, some or all may go to waste.
Best-before dates aren't always carved in stone. Eggs, yogurt and some meats are fine past their dates. Do a sniff test to be sure and if still in doubt throw it out. Time deadlines on more finicky foods such as sushi, cold cuts and soft cheeses are important to follow, though. And bear in mind, that use-by dates don't usually indicate the safety of the product often refer to how long a food product is able to retain its freshness, taste or nutritional value.
Use up bits and pieces of food items. Find ways to incorporate wilted produce into soup, stew or a casserole. Use blackened bananas to make banana bread. Old bread can be ground into bread crumbs or baked and then cut up into croutons.
Most of us have been guilty of having eyes bigger than our stomachs at one time or another. Maybe it's time we become more mindful of what we consume, from our in-store purchases to restaurant meals and take-out to the food waste we heap in our garbage and compost bins. And don't forget to observe Earth Day April 22. Celebrate it with food. Just don't buy more than you need.
The National Association of Green Agents and Brokers (NAGAB) provide a Greenbroker and Greenagent certification program to Realtors across Canada. To get more information or to sign up for a course, visit www.nagab.org. Elden Freeman M.E.S., AGB, broker is the founder and executive director of the non-profit organization. 1-877-524-9494 Email elden@nagab.org.