Wednesday, January 29th, 2014
A Wintertime Culinary Celebration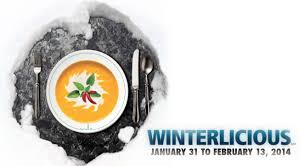 Let your palate take a stroll though the many yummy culinary flavours Toronto has to offer in February as part of the two-week-long Winterlicious festival for foodies.
The 11th annual event sponsored by the city features prix fixe menus from $15 to $45 and reservations are strongly recommended. Winterlicious runs from January 31 to February 13.
While visiting all 200-plus participating restaurants would be an impossible feat, we thought it better to narrow our focus to the Annex and Seaton Village neighbourhoods near Freeman Real Estate. Let's look at those eateries that are within walking distance. That way, we can either work up an appetite on the way over or burn off a few calories on the way home.
Arisu at 584 Bloor Street West offers patrons a blend of modern and traditional Japanese and Korean cuisines with a vast array of menu choices. Order sushi with your bulgogi and you've covered the best of both worlds. Be sure to check out the Korean BBQ, a fun table-top grill that lets you be the chef.
Bistro Tournesol at 406 Dupont is an intimate restaurant, a favourite for Tarragon Theatre goers that serves a prix-fixe menu all year round. Classic French food at good value is what you get in this 30-seat restaurant. Be sure to check out the wine list.
The Corner House at 501 Davenport has been turning on the charm for 15 years in an unpretentious, relaxed atmosphere that combines a cozy French décor with moderate prices and great service. Expect nothing but deliciousness as former Jump chef Herbert Barnsteiner runs the kitchen brigade.
Led by celebrity chef Massimo Capra Mistura at 265 Davenport Road offer patrons upscale contemporary Italian cuisine with ingredients that reflect each changing season. The atmosphere is elegant yet relaxed, perfect for a night out with friends, sweethearts or business associates.
Get a psychic reading while waiting for your chicken gumbo at Southern Accent, a New Orleans inspired establishment that features Cajun, Creole and soul food in the warm hospitable embrace of fun and funky décor. Listen for the strains of zydeco and Louisiana music as you nosh on hush puppies and piquant sauce. Located in Mirvish Village at 595 Markham Street.
Splendido at 88 Harbord Street is a classic Toronto restaurant that mixes modern and traditional cuisines, incorporating fresh locally sourced fruits and veggies in addition to drop-dead gorgeous plate presentations. Consistently ranked as one of the city's best.
Bon appétit!