Wednesday, August 12th, 2015
If you were an alien descending upon Toronto for the first time, one of the initial things you might notice is the abundance of condominium buildings sprouting up across the city.
Capturing that essence is what went into Freeman Real Estate's recent effort to create a new information-rich condo website focusing on midtown condos.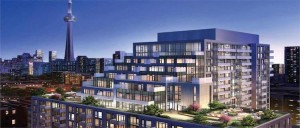 At www.freemancondos.com you'll find a wealth of information, from condo listings and beautiful pictures to details about Toronto's many neighbourhoods and financial info about mortgages, insurance and taxes. The website is loaded with information and detail.  Take the neighbourhood of Rosedale, for example. When you click on Rosedale you get a map that shows where each of the condo-for-sale residences is located. Click on a condo building and you will see when it was built, how many units and storeys, the developer's name and so on. When you go to an actual listing, you're in store for a lot more info, including how many days it's been on the market, taxes and maintenance fees, square footage and plenty of pretty pictures.
As you search our website, you'll notice a cornucopia of condo buildings in all sizes, shapes and styles. From the modern industrial look of the Annex Loft Houses to the historic elegance of the Rosedale Ravine Residences to a wide range of condo towers and developments in all corners of the city, there really is a condo dwelling for every taste and budget.
As a family-owned, independent brokerage that has been buying and selling real estate since 1972, Freeman understands why condos have become such as large part of the city's real estate market. They are the perfect home for both young and old. Condo living provides retirees who may want to winter somewhere warm with a sense of security and peace of mind. Think about it. If you're spending five months each winter away from your principal residence wouldn't you feel better knowing the maintenance, repairs and security concerns of your home are well looked after? For younger folks with demanding careers and busy social lives, a condo means easier living with more leisure time thanks to the fact that snow shovelling and lawn and garden maintenance are taken care of.
As a real estate beginner, condos provide you with the right price point to affordably enter Toronto's housing market and that is a huge benefit for young singles and families, newcomers to Canada and those who decide at any age that it's time to own a piece of the rock.
As an added bonus, many condo developments offer a wide variety of amenities. Swimming pools, hot tubs, saunas and even golf simulators provide opportunity for a quick and easy workout for residents who need relief from the stress of a busy life. The amenities also present plenty of opportunities to socialize with other residents.
Thinking about condo living? Start here: www.freemancondos.com.