Burglar Proofing Your Home
August is often a favourite holiday month for cottagers and families looking to take a summer vacation outside of the city. Many homes will be left vacant this month so what better time than now to talk about home security.
There are countless gadgets and gizmos available from those within the home security industry. They are usually costly and sometimes vexing but security equipment can include video surveillance cameras, wireless alarms and infrared motion sensors.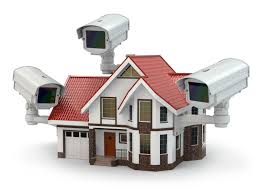 Fortunately, Toronto is a relatively safe city. In fact, the rate of break and enters in the city declined in 2015 and hasn't grown at all in the first half of 2016, according to Toronto Police Service crime statistics.
Still, it pays to play it smart and there are some simple, relatively easy and economical ways to help protect your family and secure your home.
Cover Up – Install window and door coverings that make it hard for someone to peek inside. The shades, blinds or curtains should let some light in so that at night the house looks occupied.
Lights On, Lights Off – Pretend there is someone living in your house by using timers that will turn TVs, lights and radios on and off.
Control Outdoor Lights – Nothing says we're not home more than a porch light that's been left on all night long. Install infrared or motion-controlled lighting.
Prune It – Shrubs, trees and plants that block your front door and window makes for a great hiding space for thieves. Get rid of them and create a more open setting.
Never Leave a Tip – Giving out info about your whereabouts on your answering machine is simply looking for trouble. Also, never leave notes for friends, family or service people on your door. Who knows who's reading them? And never announce on social media how charming your Lake Rosseau cottage is.
Garages and sheds – They may not be as big as your house but they certainly contain valuables. Keep your garage door closed even when you're home so burglars are prevented from seeing items they find attractive. It's a good idea to lock up expensive grills and bicycles separately with a chain and padlock.
A Clean Sweep – Get neighbours or friends to pick up flyers, newspapers and mail. An overstuffed mailbox is a sure sign you're away.
Tell the Neighbours – Let your neighbours know that you're going away. It never hurts to have another set of eyes keeping watch.
Spare key – If you've thought of a clever hiding spot, likely so has the robber. You're better to leave it with a neighbour.
Install Window Stops — These prevent windows from being opened more than six inches — perfect for ventilation, but not for a criminal who wants to slip inside.
Fake Your Trash — Intruders have been known to watch on garbage days to see which houses aren't putting out any trash. Ask a neighbour to occasionally put out your trash so it looks like you're home.
Fake Your Signage — A "Beware of Dog" sign or a bowl and chain by your back door can be enough to scare off burglars. Also think about posting a sign that your home is protected by a security system, even if it's not.
Sources: Bob Vila, HGTV, Home – How Stuff Works