Real Estate is in Her DNA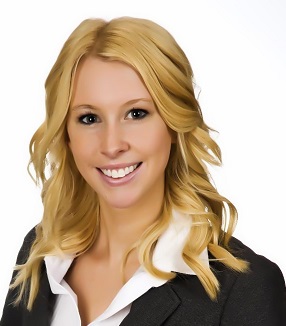 At 24, Nicole Gay may be Freeman Real Estate's youngest realtor but in terms of understanding the business you could say she's as old as the hills.
With two parents who've spent a combined 40 years working in real estate, Nicole grew up in the embrace of the business surrounded by conversations about open houses, clients and contracts. By 16, she was working part time at a huge Remax office in Mississauga, inputting offers for realtors, updating website listings and acting as the company liaison between clients and agents.
Nicole obtained her commerce degree in 2011 from McMaster University and could have explored a myriad of business avenues, but always knew a career in real estate would be her calling.
"Given my age, having an education behind me gives me credibility," says Nicole. "I didn't get into real estate by accident. I've been with it my whole life. I gained valuable experience from behind the front desk and got the opportunity to see how various realtors built their businesses."
After earning her realtor's license, Nicole joined her parents' real estate team in Mississauga and worked with them for two years before joining Freeman last year.  With her parents planning to retire in the next year, Nicole knew she had to cut loose so she decided a move to Toronto would be wise for both personal and professional reasons.
What appealed to Nicole about working for Freeman was the company's sophisticated yet personal approach. She was also drawn to the depth of expertise and the lengthy experience the Freemans bring to the table.
"I was looking for a smaller, boutique operation, one that could offer a more personalized mentorship," says Nicole. "I sense a difference in company values with Freeman. They take care in who they hire. When I first interviewed with the company, it just felt like home."
Nicole expects 2014 will bring her plenty of interesting opportunities, including an exploration of which niche – say for example freehold Victorians versus condos — she may decide to specialize in.
An avid sports lover, Nicole enjoys sailing, soccer and travel and has sailed extensively in Antigua and the British Virgin Islands. She's currently considering a two-week sailing trip in Thailand as well.
This year will garner a lot of change for Nicole. In addition to her newish job, she's also moving to Toronto soon so the ties to her parents and her hometown will be undone. But that doesn't mean she doesn't appreciate the gifts they've given her, not at all.
"The majority of what I know about real estate is from my parents," Nicole says. "They've been the best mentors ever."