May 2nd, 2018
The list of plants, shrubs and vines that flower in May is as long as a Canadian winter. But with so many to choose from it's easy to become overwhelmed and perhaps even give up on the notion of having an attractive outdoor garden.
Don't. Nothing is as inviting as a well-tended lawn and garden. An abundance of colour, eye-catching plant shapes, sizes and textures and well-placed lawn and garden ornaments will keep folks turning their heads. And if you plan to sell your home during one of the hottest buying months of the year, that's even more reason to pick up your rake and head outside.
Gardening experts will tell say you are better to select plants that are native to Ontario because they are more likely to thrive, pick up fewer diseases and need less water. Indigenous varieties are much easier to maintain and they contribute to biodiversity.
That said, nothing says springtime like those gorgeous blossoms found in April and May on tulips, hyacinths, crocuses, snowdrops and daffodils. Though these flowers may not be native to Ontario, they grow very well here and provide the perfect pop of colour after a long, cold and bleak winter season.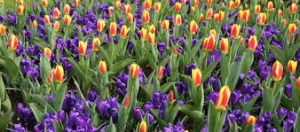 Perennial flowers that you can depend on year after year include early-blooming peony. These easy-to-grow and disease-resistant plants are showy and beautiful in colour and they can last forever. You will likely need to stake your peonies, but the effort will be worth it.
Bleeding Hearts lend an old-fashioned flavour to your garden what with their arching stems and dangling heart-shaped blooms. These plants work well in shady areas.
Columbine come in a variety of colours but are known for their showy, intricate flowers. These flowers are ideal as they are a native species of Canada.
Wood Anemone is part of the Buttercup family and since they grow low, they make a nice ground covering. This native variety sports a five-petal blossom of white flowers in early spring and is usually found in forests.
Bloodroot is showy eight-to-twelve petal white flowers that bloom from April to May. These photogenic flowers with a bright yellow centre are named as such because the roots contain juice that is a blood-red colour.
When it comes to shrubs that produce pretty flowers in May virtually nothing beats the forsythia. With its bright and welcoming yellow blossoms, these shrubs looks fabulous whether neatly trimmed for size or left to grow wild. Flowering Dogwood, Lilacs, Bridlewreath Spirea, Heath, Azalea and Weigela each offer showy blossoms that will draw the eye.
For a vertical aspect to your garden consider growing flowering vines on fences, light posts, walls or on an arbour. Trumpet vine, which is named for the shape of its red-orange flowers, will attract hummingbirds to your garden. Wisteria produces beautiful purplish-blue-to-white flowers that are quite fragrant, although these plants can take years to develop. Clematis also turns out beautiful showy flowers in a wide variety of colours.
But if you are simply looking for a way to cover an unattractive fence, consider these non-flowering vines, Virginia Creeper and Boston Ivy. They grow quickly and their foliage is quite attractive, especially in the fall.