Changing Lanes
Toronto is finally poised to embrace laneway housing.
The move to approve laneway houses across the old City of Toronto has been hard fought and a long time in the making. In 2006, the city rejected laneway housing imposing strict conditions that virtually made it impossible for most homeowners to build a separate dwelling in their back alley.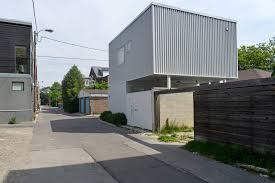 But the bull real estate market of recent years, which resulted in a housing crisis in terms of affordability, is credited with transforming the thinking on laneway housing and finally opening city planners' eyes to creative housing alternatives.
Only a handful of examples of these secondary suites exist in the city now. The directive, if approved by council, means about 250 kilometres of Toronto laneways could be used as possible laneway housing projects. Currently, these back lanes are lined mostly with garages but under the new rules, they could be replaced by houses up to two-storeys high.
In early June, the Toronto East York Community Council voted to amend the city's Official Plan and Zoning By-Law to allow laneway suites in Toronto and East York. The issue must now be considered by the full Toronto council.
A laneway house is a small dwelling at the back of a residential lot that is detached from the main house. Its services such as water, electricity, garbage and mail all come from the front street that the primary house is on, not the laneway. Laneway homes can be used as residences for family members or as rental units. These dwellings cannot be severed and sold separate from the main house, however.
The advantages to laneway housing are numerous: it increases the quality of affordable rental housing, it lets people stay in pretty, well-established and low-rise neighbourhoods, it intensifies neighbourhoods and makes urban lanes more green, liveable and safe, it allows people to live near where they work, shop and play and they provides living space for household members at different age and stages of life.
Since 2009, Vancouver has been home to over 500 laneway homes. Ottawa has recently launched a laneway housing policy and Regina is close to doing so also.