Save Water and Money with these Summertime Tips
Summer is here and the time is right for watering lawns and gardens, washing our cars and topping up pools.
Did you know that city water use doubles in the summer thanks in large part to grass and garden watering? While there's nothing wrong with keeping your plants and lawn hydrated, homeowners often overdo it when it comes to H2O. The result tends to be water wasted due to evaporation, run-off and over watering.
In an effort to avoid wasting water and to cut costs, here are some guidelines set out by the Canada Housing and Mortgage Corporation:
Watch Mother Nature
It's a good idea to assess your weekly rainfall by keeping a measuring container in your yard that is emptied each week. Established lawns, for example, need about 2.5 cm or 1 inch of water per week. To determine the measurement set out a can of tuna on your lawn and after an even watering, when the water reaches the top of the can, you know you've reached the limit. Time how long that takes and use the timer on your sprinkler next time. If you get a good rain, you can skip watering for one full week.
Timing is everything 
Water before 9 a.m. as this cuts evaporation and the scorching of leaves.
Don't be a hoser 
Set up your sprinkler or hose so that you're not watering your walkway, driveway or sidewalk. Talk about throwing money down the drain!
Roll out the barrel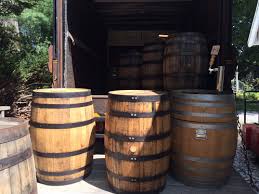 Rain barrels can cut your municipal water usage incredibly. They collect rainwater from your roof thanks to eaves troughs directed into the barrel.
Soak it
Apply a soaker hose to the base of plants, rather than to the leaves, as this reduces evaporation. Drip or trickle irrigation systems work well because they bring water slowly and directly to the roots. This will ultimately create deeper roots which heightens a plant's drought resistance. If you prefer a sprinkler pick one that sprays close to the ground and that has a timer.
Don't cut too short
Short grass doesn't absorb as much water as longer grass so it's best not to trim it too short. Set your mower blade so that it cuts no lower than 6 to 8 cm or 2.5 to 3 inches. Shaded roots can hold water better.
Use mulch
Mulch does a lot more than simply retain moisture in the soil. It's also good for moderating soil temperature, erosion and weed control. Try wood chips, bark and crushed rock, though there are other choices for mulch as well.
Other ways to save water
Don't hose down paved surfaces to get rid of dust, dirt and debris. Use a good old-fashioned broom. When washing your vehicle, use a water-filled bucket instead of a hose. Finally, cover your swimming pools when not in use. This decreases the water's evaporation.