The Lowdown on Lead-Based Paint
It's for good reason that Toronto is known as the City of Neighbourhoods with some of those many communities dating as far back as 200 years. Given that lineage, it's safe to assume that lead-based paint could be in your home.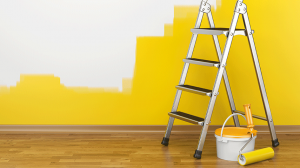 If your house was built prior to 1960 chances are pretty good that lead-based paint was used. Homes constructed between 1960 and 1990 may have lead in the exterior paint, though paint used inside could still contain some smaller amounts of lead. Residences built after 1990 should not have any lead in their paint as North American manufacturers were producing lead-free paint by then.
The danger with lead paints is highest among children because they absorb it more easily and because they are still developing.  According to the federal government, even small amounts of dust with lead are dangerous to babies and children. Unborn infants could also be at risk if a pregnant mother-to-be consumes lead. Lead poisoning causes anemia in addition to brain and nervous system damage. A simple blood test is how you determine your level of exposure.
There are ways to detect if lead-based paint was used in your home. Having paint chip samples analyzed at a lab is a possibility as is hiring a contractor who has the appropriate x-ray equipment to detect lead on painted surfaces.
The federal government recommends taking action if your lead paint is chipping, flaking or within reach of children who might ingest it. But it also stipulates that sometimes it's best to leave well enough alone when it comes to lead paint, as long as the safety of children is not compromised. As an added protection home owners can cover lead-based painted areas with wallpaper, wallboard or panelling.
If you plan to do the work yourself, know that it's a tall order. Remove all furnishings, rugs and window coverings on which lead dust might cling. If you can't remove a belonging or furnishings make sure they are covered in plastic. Cover your heating and cooling vents and doorways as you want to prevent scrapings and paint particles from travelling throughout your house. Open your windows. To trap the dust and keep yourself protected you will need tarps, a respirator, protective eye coverings and gloves.
It's a good idea to take frequent breaks, every ten minutes or so. Exit the work area immediately if you begin to feel dizzy, sick or have trouble breathing.
Use a chemical paint stripper paste and apply it with a brush. You want to avoid sanders, heat guns or blowlamps as they create toxic dust and fumes.
Then again, you may decide to hire a lead abatement company to get the job done. You'll find them online. Be sure to check references.