Why Condos Are a Good Investment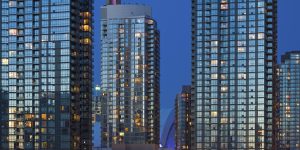 You've been saving and a small nest egg has accumulated and now you're wondering if the real
estate market is good place to invest your money.
The condo market is a good place to start. Not only have condos posted year-over- year gains,
making them an attractive investment opportunity, they are also likely the most affordable
piece of real estate money can buy in the GTA.
Purchasing a condo as an investment is a wise move now for a number of reasons. Vacancy
rates in Toronto are extremely low, somewhere below one per cent. As with any supply-
demand scenario this inevitably means renters will need to pay more and competition for
desirable rental space will be stiff. With rental prices on the higher side and a low supply of
rental space, tenants are reportedly engaging in bidding wars by offering landlords extra
months of rent up front just to secure a space.
It's said that the majority of condo investors look to a formula of 25 per cent in and 75 per cent
rent coverage. What that means is if you invest 25 per cent into the price of your condo, the
rent you charge should cover your remaining costs, including property taxes, mortgage and
maintenance fees.
If you are buying a condo as an investment, try to buy in the very best location you can afford.
Make sure the condo is close to transit, multiple forms are even better, as many renters don't
own vehicles.
There are plenty of advantages to condo living that you don't always get in a single-family
home. Your access to community is virtually built-in given the closer quarters design of most
condos. Many possess an added level of security that is non-existent in other homes. And
finally, the condo lifestyle frees up your time for other pursuits as grass cutting, snow shovelling
and window washing are chores that are relegated to someone else to take care of.
Don't ignore what amenities are in your condo simply because you won't be living there.
Renters will pay attention to what your building offers and they want to benefit from some of
the amenities they enjoyed when living in a single-family home. Many condos feature patios,
pools and party rooms for entertaining larger groups. Barbecues are often available. And just
think what renters can save on their fitness club memberships once they start using the gym
provided by your condo.
Finally, pay attention to the cost of utilities as well, since your renters will want some idea of
these costs.