Happy to Pick Up Where Honest Ed's Left Off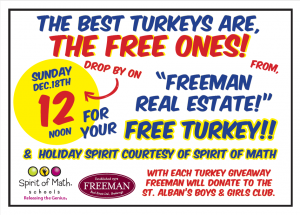 Freeman Real Estate is launching a brand new community event this month that pays tribute to the memory of a much-loved retailing icon and honours the Freeman Real Estate spirit of community giving.
On Sunday, Dec. 18, Freeman is hosting a free turkey giveaway at the real estate company's office at 988 Bathurst Street. The event, which begins at 12 noon, will see 500 turkeys given away to members of the public.
Located just four blocks north of Honest Ed's, Freeman Real Estate is a family-run boutique real estate firm with a reputation for supporting community causes, charities and efforts. Honouring Ed Mirvish's memory and the real estate company's tradition of community giving helped plant the idea for the turkey giveaway.
"We always admired Ed's charity and we thought this was a good opportunity for us to keep the tradition going," says Elden Freeman, Broker of Record.  "We're big believers in our local community. As residents and business persons, we benefit a good deal from our community. This is one way we can pay back and say thank you."
Spirit of Math is also getting into the holiday spirit by sponsoring a portion of the gobbler giveaway.  Spirit of Math is an innovative leader in after-school mathematics education with more than 40 campuses in North America.
The turkeys are completely free of charge and for each turkey given away Freeman will donate 50 cents to St. Alban's Boys & Girls Club, an organization that provides programming for children and youth.
On hand will be Ward 20 city councillor Joe Cressy. St. Alban's executive director Chris Foster and boys and girls from the club will also be there to help give out the turkeys.
The Annex landmark, Honest Ed's, gave away free turkeys at Christmastime for 28 years, ending the tradition this year. The retailer at Bathurst and Bloor Streets will close in 2017 to make way for condos and commercial space.
If this year's giveaway is a success, Freeman intends to make the event bigger and better for next year.