Handling Bad Neighbours When Selling Your Home
There's that saying about how you can pick your friends, but family members you're stuck with. Well, the same goes for neighbours.
But if you're lucky, you have a flawless neighbour. The kind of person who bakes cakes for you, keeps a watchful eye on any troublesome activity and who doesn't at all mind picking up bits of garbage and debris that get strewn on sidewalks and lawns up and down your street.
Fat chance, right? Likely your issues with neighbours lean toward the dark side and if you have a house to sell, that makes it all the more challenging. But there are ways to deal with annoying neighbours. Here's how:
Overgrown Lawn
Living next door to a neighbour who has an unkempt property can be taxing. Toronto has bylaws that determine standards of acceptability when it comes to how tall grass can grow before it requires cutting and what types of items can be left lying around outdoors. You may need to get the city involved if you've tried gentler suggestions to get your neighbour to clean up.
If you've never broached the issue, you may want to give it a try. If you have time or are so inclined, offer to help your neighbour clean up. If you don't have time and your neighbour is strapped for cash, you may want to pay or help pay for a lawn and garden service to spruce up the yard, at least until your home is sold.
Hoarder
Thanks to reality TV, we all know way more than we need to about people who have a psychological compulsion to accumulate junk. If your neighbour is a hoarder, abandoned vehicles, tires, old appliances may decorate their front lawn.  This will be offputting to potential buyers. To help you sell sooner, maybe you can offer to buy your neighbour an inexpensive shed to store all his treasures. While you're at it, help your neighbour clear out the junk. Your hands will get dirty and you'll be out a few bucks, but at least you'll be able to realize top dollar for your home. Same theory applies for abandoned vehicles. Offer to pay the rental of a garage just to get the abandoned car out of sight.
Noisy, Unbearable or Nosy Neighbours
They are all detestable in their own special way. The noisy neighbour should be told in the nicest of ways to keep it down. Maybe they have no clue that their volume is too loud. If that doesn't work, you could try contacting the city. The unbearable neighbour is a boor who can't see beyond his nose. He doesn't understand why people are offended by the beer fridge on his front porch or why neighbours suggest he wear shorts and a t-shirt instead of a thong when doing yard work. These folks can be difficult to reason with so they require a deft touch and diplomacy. The nosy neighbour should be curbed, if at all possible, before she gets to prospective buyers. Tell her that it is your realtor's job to speak with potential buyers and if she needs to share information with them she should do so through your agent.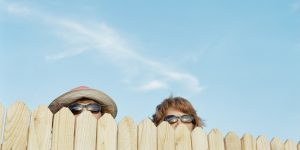 Barking Dogs
Besides the fact that noise bylaws generally address excessive barking issues, it's probably a good idea to have a chat with your neighbour if their canine yaps too much. Tell them you fear their dog's excessive barking will make your house difficult to sell. Ask the neighbour if they can arrange to keep the dog in their home during showings. If that doesn't work get your child or a neighborhood kid to walk the dog during showings. If your neighbour is being disagreeable, offer to pay for the services of a dog walker.
You can't choose your neighbours but you can choose how to deal with them. Keep a cool head and a compassionate heart and never take their odd behaviour as a personal insult. It isn't. If you're not sure where to turn, call the city. They should be able to direct you.