The Ghosts and Haunted Houses of Toronto
There is nothing like the month of October to bring out thrills, chills and tales of things that go bump in the night. Toronto has its share of real estate that is reported to be haunted so in honour of this bewitching month let's take a look: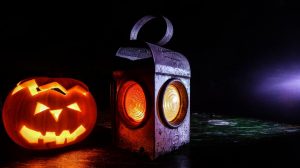 Perhaps the most known haunted house is the Keg Mansion, a popular Jarvis Street restaurant and former home to the Massey family. It is said that a brokenhearted maid hung herself in the front foyer after the death of Lillian Massey. Restaurants patrons have said they've seen a frightening apparition hanging and some have reported hearing the voices and laughter of children from the upper floors.
This 200-year-old Georgian manor, now known as the Grange is reputed to be home to the undead. Witnesses report seeing a man, who may be Goldwin Smith or Algernon Blackwood, both writers who lived there at one time. Reports of a lady dressed in black haunting the second-floor bedrooms exist as well as accounts of other ghosts in and around the staircases.
Old City Hall is believed to house the spirits of many, including Arthur Lucas and Ronald Turpin, who were the last two men to hang in Canada. It's said judges have heard footsteps and felt tugs on their robes, while the frightful moans of locked up prisoners have been heard in the cellar. Some say a presence is felt in the northwest part of the attic.
Gooderham and Worts Distillery co-founder James Worts committed suicide in 1834 following his wife's death. Legend has it that Worts makes his presence known by opening and closing doors, making odd banging noises and turning lights on and off.
The historic house known as Colborne Lodge on the south side of High Park is said to be home to the spirit of Jemima Howard, a former mistress of the house. More than 100 years after her death in 1877 she has been seen staring out of one of the upper storey's front windows — that same room in which she died. Other ghosts are said to haunt the main staircase, the hallway leading to Jemima Howard's deathbed and even the grounds outside.
Christie Mansion is perhaps the creepiest tale of all. The Victorian home at Wellesley and Queen's Park Crescent was the home of Robert Christie, of Christie cookie fame, who despite having a wife and family, managed to keep a mistress locked away in a hidden windowless room in the same home. She was not allowed to leave the mansion and her only visitors were Robert and his servant. Eventually Robert lost interest and she hanged herself out of loneliness. It's said Robert had her buried secretly somewhere on the grounds of Queen's Park. When the home was converted into a female residence for the University of Toronto some say they were haunted by her spirit in the hidden room otherwise known as room 29.  Reports say the room's door would slam shut and lock, imprisoning the student till daybreak.