Doggy Do's & Don'ts for Condo Dwellers
As Torontonians, we love our dogs and we love our condos so how do we learn to reconcile the two? Living with a dog close to several neighbours means navigating the needs of you and your canine in addition to those of neighbours you may not even know.
Since there are no finishing schools for canine etiquette, you will need to employ some good, old-fashioned common sense for starters. Bear in mind, how you would feel if someone did that to you. The old golden rule of do unto others as you would have them do unto you bears repeating.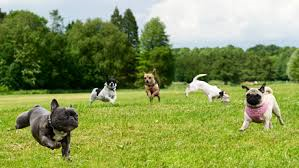 ---
Here's is our list of rules for canine etiquette in condos:
---
Be a Bark Buster – This ranks as one of the top annoyances especially among neighbours living in close quarters. Your Chihuahua or German shepherd is known to bark more than other breeds and though you don't mind the noise, your neighbours will grow to hate you and your animal for it. Consider crating your pet or send Charlie to doggy daycare. The Toronto Dogwalkers Association recommends hiring a trainer or perhaps a dog walker to give your dog a midday reprieve that may help it relieve some of its energy and anxiety. If your dog is staying in your condo most days, try to keep him away from the door in an effort to minimize the amount of stimulus he gets.
---
Poop Patrol – If you have a dog, dealing with their feces and urine is a matter of course. But it's a small price to pay for the love of a furry friend. Generally speaking, nothing turns neighbours off more than another animal's excrement. Only allow your pup to relieve himself in designated areas. Be vigilant about not letting Fido whiz on posts, shrubs and just about any non-moving vertical structure, especially those that are close to the condo entrance. It may be a fact of nature, but neighbours don't want to see it or smell it.
Because dog waste carries disease and parasites, you must be vigilant about picking it up and properly disposing of it. Make it a habit to always carry poop bags on you. They're inexpensive and small so they are easy to obtain and store.
---
Show Restraint – Your neighbours, condo staff and service people are not uncommonly fearful, nervous and uncomfortable around dogs that are not restrained. Keep your canine on a leash in hallways and lobbies or whenever walking outside of your condo. Your dog may be the best-behaved canine but why prompt fear among strangers and neighbours? Remember that some people are allergic to dogs, or possibly have reactive dogs of their own that need space away from other animals. Train your dog to sit while in the elevator, keep Scruffy on a short leash and try to exit the elevator first.
---
Naughty Dog Owners – When you've seen a pet owner doing something objectionable you're best not to confront the person but instead report the incident to management or the condo board. While tattling doesn't feel great, know that it's advisable because nothing is worse than creating hostility between you and a neighbour.
---
Reactive Rover – Got a dog that barks or jumps on people or other dogs? Perhaps it's time to seek a dog trainer, who can help you work on changing your pet's behaviour. This is a highly awkward problem for condo dwellers given that they live in such close proximity to others. Try to use back stairs, side doors and entrances and exits not commonly used whenever possible. In the meantime, as Rover is learning to behave, show extra consideration and respect to your neighbours rather than reacting defensively. You'll earn more brownie points and keep relationships with neighbours civil.