Wednesday, June 6th, 2018
Open Tuning is a free music festival being offered this Saturday, June 9th in the heart of Toronto's west end.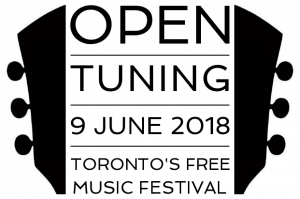 Amped up by the success of previous festivals, this will be the fifth annual event for Open Tuning and Freeman Real Estate is happy to be a part of the festivities. The family-run boutique firm has been a fixture on Bathurst Street for nearly five decades so when there is opportunity to give back to the community, the Freemans enjoy doing so. This year, Freeman is sponsoring Freeman Laneway Stage, which will feature some of the many great bands playing at the festival.
"This is our second year participating in Open Tuning," says Dan Freeman, senior vice president and broker of Freeman Real Estate. "We enjoy these kinds of events as they allow us the opportunity to meet neighbours and those who live and visit the neighbourhood. More importantly, though, we like participating because it's a way of giving back to the community that has been so good to us."
The streets of Seaton Village will come alive this Saturday with live music, in a variety of genres, playing at unique venues throughout the neighbourhood. The festival seeks to celebrate live music and the many ways we understand it: creating music, performing it, experiencing and listening. Musicians young and old, from various musical genres and experience levels are invited to perform at the various venues which include front porches, parks, alleyways, garages and street corners.
"I think what's neat about this festival is the grassroots, sort of democratic approach it takes," Freeman says. "No matter what your experience is with music you can get up and perform, providing you register first, of course. Who knows? I may even consider it."
This year's line-up of acts includes the Fourteen Hens Band from 2 to 3 p.m., the Governor Douglas Band from 3 to 5, Tyler Simmons from 5 to 6 and from 6 to 7:30, the Storm Free Band.
Last year's event welcomed more than 100 artists at over 20 different venues within Seaton Village. Musicians included first timers and professionals such as members of Toronto's Broken Social Scene and Jane Siberry.
The festival began in 2014 thanks to a group of area residents, who were inspired by a similar event known as Fete de la Musique, which is held in Paris, France.
Open Tuning is entirely volunteer-driven with no paid advertising or corporate sponsorship.
Seaton Village is just west of the Annex and it bounded by Bloor and Dupont and Bathurst and Christie Streets.